Playbacktheatre
What is Playbacktheatre?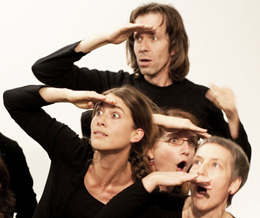 Playback theatre is a specific kind of improvised or interactive theatre, distinct because of its use of the old tradition of storytelling: the audience members report on their own experiences or retell events from their own lives. Subsequently, they can watch these events being re-enacted on stage. Instants from life are turned into images, stories are turned into stage plays, dreams and fantasies are turned into visible and perceptible movements and actions. The actors follow their intuition, using body language, linguistic improvisation and music to transform the audience's ideas, presenting every-day situations from a different angle and with a deeper meaning – a non-judgemental playback of the feelings and emotions, which accompany the events.
Playback theatre is more than purely entertaining. It presents a structure for social and artistic communication between individuals and groups. Bonding experiences like the stories within a story are made visible and brought alive. The stories are linked to create a common experience. This is a way of creating bridges between the familiar and the unfamiliar, the individual and the collective.
Playback theatre values personal experiences, enables people to see their lives from a different point of view and strengthens human encounters.
Where does Playbacktheatre come from?
Playback theatre started with the psychological drama by J. Moreno and was founded by the psychodramatist Jonathan Fox, his wife, the music therapist Jo Salas and their theatre company in the state of New York, U.S.A.
The art form soon spread across 50 countries worldwide through various social, cultural and social-political connections.
The Network for International Playback Theatre supports and connects playback theatre across the world.
"We often can't make sense of the jumble of uncountable details and impressions until we retell what we experienced. If we create stories out of our experiences, we can start to identify the reasoning behind that, which we experienced."
Jo Salas
"...creativity has less to do with knowledge and more with the challenge of confronting the event ourselves. It is up to us to offer a space, in which everyone can be heard."
Jonathan Fox
How is Playbacktheatre used?
Playback theatre is used in many different contexts, for example:
For supervision and coaching
For group and team mediation, or team and company development
In companies, as company theatre
In education
For therapy
In public performances
To begin and end conferences
At birthday or anniversary celebrations
This method is increasingly used as a tool for constructive conflict processing in social hot spots: in areas of conflict and in areas, where social communication and coexistence is affected by inequality and injustice. In an intercultural context, playback theatre has successfully been put in place to help overcome language or communication-based difficulties.
Playback theatre tries to build a path to restore constructive social interaction and social justice.

Our playback theatre company appears at conferences, team development sessions, conflict resolving sessions in teams and groups, work parties and many more.
Further information is available here:
>> Die Spiegelneuronen
[ back to top ]